Bernard H. Stern, M.D., F.A.C.O.G., A.A.C.S.
Dr. Stern has three locations for your convenience. For help with travel plans, please contact the office nearest you.
Elite Plastic Surgery of Miami
21097 NE 27th CT
Suite 335
Aventura, FL 33180

(305) 933-4033

Aventura Center for Cosmetic Surgery
2954-B Aventura Blvd.
Aventura, FL 33180

(305) 933-6960

Plastic Surgery Institute of the Palm Beaches
4601 Military Trail
Suite 208
Jupiter, Fl 33458

(954) 483-7929
SPEAK DIRECTLY WITH DR. STERN NOW!
(954) 483-7929 or 888-696-4767
Email Dr. Stern: doc@clitoralunhooding.com
Watch a 3-part candid interview with Dr. Stern on YouTube, Part 1, Part 2, Part 3
Dr. Bernard Stern is proud to announce...
TAKE 10 % OFF ALL PROCEDURES JANUARY AND FEBRUARY ONLY!
Female Cosmetic Genital Surgery Now Available On Saturday in Miami, Aventura, Florida!!
These days, getting away from your job can be very difficult due to job responsibilities or the hard economic times upon us. To help, Dr. Stern is now offering Saturday surgery for those who can't be out of the office too long. Call for information on consultation, travel, and surgery scheduling.
Patriot Program For Women And Families
Military & Federal Employee Discounts on Female Cosmetic Surgery. Click here to find out more!
View Dr. Stern's Clitoral Unhooding Before and After Photo Gallery
Dr. Stern's Credentials | Dr. Stern in the News | Pricing | Map | Patient Testimonials
| | |
| --- | --- |
| Dr. Bernard Stern | Dr. Stern has over 25 years of private practice experience and is one of the select few with advanced training and expertise in the fine art of cosmetic surgery of the female genitalia and now limits his practice exclusively to these procedures. |
• Certified by the American Board of Obstetrics and Gynecology
• Member of the American Academy of Cosmetic Surgery
• Fellow of American College of Obstetrics and Gynecology
• Former Clinical Assistant Professor, University of Miami School of Medicine
• Member of Florida State & Dade County Medical Associations
• Previous Active Teaching Staff, Southeastern University College of Osteopathy
• Certified in Advanced Cardiac Life Support by the American Heart Association
• Previous Chief of Gynecology, South Shore Medical Center, Miami Beach, Florida
• Board of Directors & Prior Chief of Obstetrics/Gynecology, Av-Med Health Plan
• Director of Quality Assurance, Utilization Review, OPS, N. Miami General Hospital
Procedure costs vary depending on the complexity of repair. Call us for help with consultation, travel, surgery scheduling, payment methods, and financing information.
Please note that the Anesthesia fee is not included in the prices below.
Fees listed below are effective September 1, 2015
Labiaplasty
Labiaplasty with Hood
Labiaplasty Single
Labiaplasty Single with Hood

$4400 NOW $ 3900
$6300 NOW $ 5700
$3200 NOW $ 3000
$4200 NOW $ 4000


Labiaplasty Plus (Perineoplasty)
Labiaplasty-Hood Plus (Perineoplasty)


$6900 NOW $ 6300
$8900 NOW $ 8000



Vaginoplasty
Perineoplasty ONLY

$5500 NOW $ 4900
$3000 NOW $ 2600


Labiaplasty and Vaginoplasty Combination Surgery
Labiaplasty with Hood and Vaginoplasty Combination Surgery


$8800 NOW $ 8000
$10,800 NOW $ 9800

Hymenoplasty

$4000 NOW $ 3500

G Spot Enhancement - Single Dose
G Spot Enhancement - Double Dose


$1850 NOW $ 1700
$2500 NOW $ 2250
Hey Dr. Stern,
First, I just want to tell you what a WONDERFUL job you did with my surgery.
I couldn't be any happier with my results. Let me know if you want pictures of the final result.
Thanks Again,
MS
_______________________________________________________________________
And just a quick note to tell you how happy my husband + I are with the results of my surgery! The sexual intimacy we share together has been exponentially elevated thanks to the rejuvenation procedure. I want to tell everyone well, almost everyone! Thanks soooooooo much! Susan
_______________________________________________________________________
Dr Stern: How wonderful is to have people like you changing the world healing human beings bodies & souls. Thank You, Patrizia B.
_______________________________________________________________________
Dr Stern, Just a hello and THANK YOU! I'm so happy! Not only does my husband want to bow down to you but so do I! We enjoy each other so much more than we ever did before! After having children I did not think it was possible to restore what I had before especially something even better. I've never been so happy and comfortable with myself. Kelly
______________________________________________________________________
Dr B.S., Doing great, feeling very energetic. It's been over 4 weeks. So happy that I had it done. I have you to thank for my new-found self esteem. So sorry I waited so long. Thanks again. Eve
________________________________________________________________________
Dr Stern, I also wanted to mention that the services you offer to women is not just another cosmetic surgery that attempts to resist the process of aging, it is a procedure that boosts the women's self worth from the inside, after all, she doesn't walk around showing off the end results! Michal
______________________________________________________________________
Dr Stern, Thank you for the you know what! XOXO. Love, Patty
_____________________________________________________________________
From an on-line chat-room: I am extremely happy, I chose Dr. Bernard Stern in Ft Lauderdale, Florida who was referred by my local physician. After my surgery I put Neosporin on my surgical area and of course, no sex. It has been 7 weeks post-op and I am very pleased. Will see Dr Stern next Tuesday.
______________________________________________________________________
Hello to Dr. Stern, I am doing well, planning to return to work next week. You have restored my faith in doctors again! Hope you are well. Later E.
______________________________________________________________________
Dr Stern and staff, The procedure was less traumatic than expected. Thanks for everyone's professionalism. You're all a great team! E.
______________________________________________________________________
Hi Dr. Stern!!!I just wanted to take a few minutes to Thank You for being such a wonderful doctor and for all the awesome work you did on me. I can't thank you enough. You are the best and I am so thankful for you and your staff! Everyone made me feel very comfortable and the things you did for me are going to be life changing in so many ways.
I really would like to take you out for dinner the next time I am in Florida! You did so much for me and I truly am thankful. Wow! That's how I describe you.You are the best!
B.P.
______________________________________________________________________
Dr Stern,
Thank You for your wonderful expertise! I am so happy w/my results! Your staff was professional & sweet. They really made me feel more comfortable. I really didn't know what to expect, but I knew I trusted you. I healed so quickly and well. I went off all pain meds by the first day after surgery!
GOD Bless!
Love,
Amy
______________________________________________________________________
Hey Dr. Stern:
How are you, it's Laura B. how are you. My labiaplasty is absolutely AMAZING!! Results came out BEAUTIFUL, you are a magician. I love it love it love it!!!!

I will send you some after photos soon.

Laura B.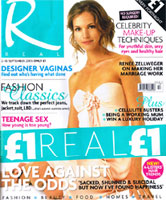 Designer Vaginas
(Excerpt from REAL Magazine, September 2005)
In this day and age when it's easier to suck your fat out than exercise it off, and women use their lunch breaks to top up on Botox, where will our quest for perfection end? Now virtually every inch of our bodies can be remodeled and improved—both inside and out—even our vaginas. REAL talks to women who had their nethers nipped and never looked back.
It might make you cringe thinking of a scalpel anywhere near your sensitive nether regions, but more and more women are opting for designer vaginas — one of the newest and fastest growing areas of plastic surgery. It may seem like the ultimate in vanity, but beauty aside, genital cosmetic surgery is often used to correct physical problems. In fact, it's not uncommon for women who have given birth to suffer from slackness in the pelvic floor and vaginal muscles. Some may even develop stress incontinence, which can be embarrassing and severely damage self-confidence. Taking the surgical route has not only boosted sexual pleasure, it has prevented further genital discomfort. Here's what you can expect when having the nip.
VAGINAL VARIATIONS
The two most commonly performed procedures are the labiaplasty, where the labia or "lips" of the genitals are reduced, and vaginoplasty, or vaginal rejuvenation, where the vagina is tightened. Often these two procedures are carried out together. The surgery can be performed with a scalpel, or with a laser.

As people come in all shapes and sizes, so do the female sexual organs. The vulva is the outside part of a woman's genitals, which includes the urethra and the vagina. Over these two openings lie two folds of tissue. The fleshy outer folds are called the labia majora and the more delicate inner folds are called the labia minora. The outer labia are usually larger, but with many women the inner lips protrude. Not only do some women find this looks unattractive, but it can cause pain and irritation as the sensitive skin rubs on clothing.

Labiaplasty trims the protruding flesh of the inner lips, giving the vagina a "neater" appearance.

Dr. Bernard Stern is an obstetrician and gynecologist, and an expert (at) female genital cosmetic surgery. He has performed vaginal surgery for 34 years, and genital cosmetic surgery for five years.

His Florida practice is booming. Last year business nearly quadrupled from the year before—helped along by a number of UK women who flew across the Atlantic for his specialist care. This year the numbers look set to increase by another 50%. At the moment Dr. Stern carries out three or four surgeries every day. And that's without even advertising, Dr. Stern says.

" My only marketing is on the Internet," he explains."Women who are bothered by their genitals, either emotionally or physically, find me."

His workload is pretty evenly divided between labiaplasty and vaginoplasty procedures. One in three patients opt for both at the same time.

Surprisingly, the operations are fairly simple procedures. Most take about an hour, some are even performed under a local anesthetic, and most women are back to their regular routine within a week. Sex, however, is off the cards for at least six weeks.
---
Over the top?
Experts say cosmetic surgery on women's genitalia redefines the concept of 'extreme makeover'
By LIZ DOUP

So, it has come to this. In our world of extreme makeovers, face-lifts and fat suctioning are no longer enough.

The latest thing in cosmetic surgery is centering on something more intimate: women's genitals. The marketing pitch, delivered mainly via the Internet, tells women they can look younger, feel prettier and have better sex if they'll just fix the most private part of their body.

"They all want to be young and feel good about how they look and be more self-confident," says Dr. Bernard Stern, a board-certified Fort Lauderdale, Fla., ob-gyn who does the procedures. "Some say they're tired of not feeling anything."
The hope of a better sex life brought Jean Johnson, a 38-year-old mother of two, to Stern's office last June. "I wanted to feel more sensation," says Johnson,who had a vaginoplasty, in which the vaginal tissue is stitched tighter. "I wanted to feel more confident, like it was worth it for my husband and for me."

It was her idea, she says. But after consulting with Stern, she had another procedure done at the same time: a labiaplasty, in which the labia are reduced and reshaped. During the three-month healing Johnson had moments when she thought, "Oh, my gosh. I shouldn't have done it." But she reports that her sex life is better.
BERNARD H. STERN, M.D.
DIPLOMATE OF AMERICAN BOARD OF OBSTETRICS & GYNECOLOGY

CURRICULUM VITAE
Education:
University of Michigan, Ann Arbor, Michigan 1963-1965
Wayne State University, Detroit, Michigan 1965-1967
Phi Beta Kappa (as a Junior) 1967
Graduated with honors, B.S. 1967
Professional:
Wayne State University, College of Medicine 1967- 1971
Graduated top 10%, Doctor of Medicine
Internship – Residency:
Sinai Hospital of Detroit (affiliated with Wayne University)
Four (4) year OB/GYN Residency 1971-1975
Medical Licenses:
Michigan (30663)
Florida (034794)
Virginia (0101242476); BNDD: AS 9720827
Hospital Affiliations:
Pontiac General Hospital 1975-1980 Full OB/GYN Privileges (Teaching Staff, U. of Michigan).
Sinai Hospital of Detroit 1975-1980 Full OB/GYN Privileges (Teaching Staff, Clinical Instructor Wayne State University, College of Medicine).
Wm. Beaumont Medical Center, 1978-1980 GYN and Out-patient Privileges.
North Miami Medical Center, 1980-1990 Full OB/GYN privileges.
South Shore Hospital and Medical Center, 1980-1986, Full GYN Privileges, Director and Chief of Gynecology 1980-1986.
Mt. Sinai Medical Center, 1982-1989, Full OB/GYN privileges, (Active Teaching Staff) Clinical Assistant Professor, Dept. of OB/GYN, University of Miami School of Medicine.
Parkway Regional Medical Center, 1982 – 1997, Full OB/GYN Privileges, Present: Staff Emeritus Pending.
Miami General Hospital, 1984-1986, Full privileges in GYN.
Southeastern Medical Center, 1985-1987, Full OB/GYN Privileges, Active Teaching Staff, Southeastern University College of Osteopathy.
North Shore Medical Center, 1988-1997, Full OB/GYN privileges Oct.1997 – present, Staff Emeritus.
St. Francis Hospital, 1989-1991, Full OB/GYN privileges
Aventura Hospital and Medical Center, 1995 – Oct. 1997, Full OB/GYN privileges
North Shore Medical Center, 2005-2007, cosmetic surgery privileges. Transfer privileges, North Shore Medical Center 2005-present
Social Fraternities:
Phi Sigma Delta, University of Michigan, 1963-1965
Professional Fraternities:
Phi Delta Epsilon, Wayne State University, 1967 – present
Honorary Organizations:
Phi Beta Kappa, Wayne State University, 1967
Professional Societies:
Oakland County Medical Society
Michigan State Medical Society
Florida State Medical Association
Miami Dade & Broward County Medical Associations
American Medical Association
American College of Obstetrics and Gynecology
American Fertility Society
American Association of Gynecological Laparoscopists
American Institute of Ultrasound in Medicine
American Academy of Cosmetic Surgery
Florida Academy of Cosmetic Surgery
Medical Society of Virginia
Fellow of the American College of Obstetrics and Gynecology
Board Certified in Obstetrics and Gynecology by the American Board of OB/GYN***
Member of the American Academy of Cosmetic Surgery
Advanced Cardiac Life Support Certified by the American Heart Association
***Board Certified by the American Board of Obstetrics and Gynecology, November 11, 1977. Continued CME credits in excess of 50 hours/annum since certification, including meeting new requirements X 2 for Risk Management and AIDS awareness, error and omissions BLS, ACLS Certification (Advanced Cardiac Life Support), February, 2011.
Professional Appointments:
Clinical Assistant Professor, Dept. OB/GYN, University of Miami, School of Medicine.
Board of Directors and Chief of OB/GYN, Av-Med Health Plan, 1982-1985.
Chief of Gyn. & Depart Head, South Shore Hospital and Medical Center, 1980-1986.
Medical Director, Cellulite and Laser Institute, Miami, Florida 2002.
Extracurricular Activities and Interests:
Major Contributor and Board of Directors, American Society for Advancement of Cantorial Arts
Board of Directors, Beth Torah Congregation, Miami Florida
Board of Directors, Temple Beth Moshe, North Miami, Florida
Board Member, Humane Society
Board Member, National School of Medical Technology
Board of Directors, Jewish Outreach Project (Homeless)
Philanthropies: Muscular Dystrophy Association, March of Dimes, Jewish Federation.
Wellness International Network, Ltd., Presidential Roundtable Member, Independent Distributor.
Publications:
"Placental Transfer of Drugs", Sinai Bulletin, 1971.
"Conjoined Twins", Submitted for publication in Anatomical Record, 1966.
"Presence of Mucin Core Proteins in the Absence of Mucins in a Case of Extramammary Paget's Disease," 2007.
"Female Genital Plastic Surgery: A Large Multi-Centered Outcome Study", Journal of Sexual Medicine, August 2010.
"Extra-Professional" Accomplishments and Activities:
Chief and Director of Quality Assurance and Utilization Review for Outpatient Services: North Miami General Hospital, 1989 - 1991. Responsible for Rewriting policies and procedures, training nurses and technicians for emergency procedures in labor area

As Chief of OB/GYN and Board of Directors of AV-Med Heath Plan, 1982-1985, responsibilities included reviewing all complications, necessity of hospitalizations, lab work, surgery, etc.

Served as Expert Witness for Doctor Defense before the DPR in the state of Florida.

Spoke before the Texas Health Department and represented Wellness International Network, Ltd. before Governor Bush in Texas, regarding efficacy of Herbs.

Served as Expert Witness for Doctor Defense in States of Florida, Michigan, Texas.

Served as Expert Witness for Doctor's right to maintain Medical Licensure in California.

Serve as Expert Witness for Defendants only with cause or severe deviation from Standard of Care.

No maternal deaths ever while in Private Practice, 1975 – CURRENT.

Repeatedly lowest costs per patient, fewest complications per patient in multiple hospitals

100 % success in preventing premature labor in all cases utilizing home monitoring services.

C/ S rate avg. 15% for 17 years.

Featured in a Prime Time Documentary (including live video of labiaplasty), "Drastic Plastics" in January 2004, aired on Yorkshire Television, London, England.

Guest Lecturer and Surgical Trainer: 1st International Conference on Male & Female Aesthetic Genital Surgery "LIVE" from the operating Theater of Institute Vila-Rovira, Centro Medico Teknon, In Barcelona, Spain, February 2007.

Guest Lecturer and Surgical Trainer: Conference on Aesthetic Vaginal Surgery, Tucson, Arizona, November 2010 & 2011.
CURRENT PROFESSIONAL ACTIVITIES & MEDIA APPEARANCES:
January 1997 – January 2001: As Presidential Roundtable Member and Independent Distributor of Wellness International Network Ltd., introduced and taught Physicians, Dentists, Chiropractors, Physical Therapists, Personal Trainers, how to incorporate health and wellness products into their professions and offices and share them with patients, clients and colleagues.
Was featured in the documentary "Drastic Plastics" by Yorkshire Television in the United Kingdom, that aired "prime-time" January, 2004.

Featured in the New York Times, Fashion & Style, "The Most Private of Makeovers", November 28, 2004

Featured in the Herald Tribune, Sunday, December 5, 2004, Halifax, Nova Sc.

Featured in the Chicago Tribune, Woman News, "Surgery's Next Frontier: Genital Makeovers," Wednesday, December 15, 2004

Currently making a documentary on Vaginal Cosmetic Surgery with German Television.

ABC primetime feature—Female Genital Cosmetic Surgery

Documentary, HBO special soon to be released featuring Dr Stern and Female Cosmetic Genital Surgery
For more information, contact: info@clitoralunhooding.com