Michael Goodman, M.D.
Caring for Women - A Specialty Women's Healthcare Practice
635 Anderson Rd.
Suite 12B
Davis, California 95616
Phone: (530) 753-2787
View Dr. Goodman's Clitoral Unhooding Before and After Photo Gallery
Read Dr. Goodman's Patient Testimonials
Dr. Goodman's Credentials | Costs & Financing | Our Facility
Map & Directions | Where to Stay | Dr. Goodman in the News
Dr. Goodman's Seasonal Specials!
Contact him today and mention this website to receive $300 off Labiaplasty or Vaginoplasty/Perineoplasty!
Need Financing? We can help with CareCredit. Ask us how, call 530-753-2787 today!
Michael Goodman, M.D.

Dr. Michael Goodman has practiced Gynecology, Pelvic Support and Vagino-Vulvar Aesthetic Surgery, Perimenopausal Medicine, Health Enhancement, Sexology and Bone Densiometry in Northern CA since 1972; he has been in Davis, CA, since 2000.

He is an experienced pelvic and labial surgeon and is Board Certified in Gynecology, an elected member of the Society of Reproductive Surgeons and the American Academy of Cosmetic Surgery and is accredited as an Advanced Laparoscopic Surgeon by the Accreditation Council on Gynecologic Endoscopy. He is a trained and Accredited Clinical Bone Densiometrist and is the only Certified Menopausal Practitioner and Clinician in his area of Northern California.
Michael Goodman, MD has practiced Gynecology, Pelvic Support and Vagino-Vulvar Aesthetic Surgery, Perimenopausal Medicine, Health Enhancement, Sexology and Bone Densiometry in Davis, CA, since 2000. Prior to that, after training at Stanford University, he was in private practice on the Mendocino Coast and worked as a consultant and Hospitalist in the San Francisco Bay Area and Central Valley. One of the early pioneers in the field of Advanced Operative Laparoscopy, he has presented numerous times at medical meetings, authored papers, and taught the subject at seminars in the 1980s and 1990s.
Dr. Goodman is internationally-recognized in his subspecialty of Female Genital Plastic/Cosmetic, or Vulvovaginal Aesthetic, Surgery. He holds joint memberships in the American Academy of Cosmetic Surgeons, the International Society for the Study of Women's Sexual Health, the International Society of Cosmetogyecology, and the American Academy of Cosmetic Gynecologists, and is on the invited faculty of international meetings and courses sponsored by all 4 organizations. He is a teacher of surgeons, and has taken part in several world congresses both in the USA and internationally. His six publications and commentaries in major peer-reviewed medical literature makes him a leader in the field, with unparalleled clinical, research, and teaching experience. Altogether Dr. Goodman has published over 10 peer- reviewed papers in major medical journals on diverse medical and surgical subjects. Click here for Dr. Goodman in the news...
Dr. Goodman is an experienced pelvic and labial surgeon and is Board Certified in Gynecology, an elected member of the Society of Reproductive Surgeons and is accredited as an Advanced Laparoscopic Surgeon by the Accreditation Council on Gynecologic Endoscopy. He is a trained and Accredited Clinical Bone Densiometrist and is the only Certified Menopausal Practitioner and Clinician in his area of Northern California. He is an independent, not beholden to insurance companies or health plans -- his only clients are his patients.
Fees are fair and client-friendly. All procedures are performed by Dr. Goodman personally, not by hired staff or physicians-in-training.
Thirty-five years of experience, "seen everything," enjoys working with women, listening to problems, and helping devise solutions.
EDUCATION:
Kalamazoo College B.A. Degree 1964; Kalamazoo, Michigan
Wayne State University M.D. Degree 1968; School of Medicine; Detroit, Michigan
Highland/Alameda County Hospital Rotation-O Internship 1968-1969 1968-1969
Stanford University OB/GYN Residency 1969-1972 & Affiliated Hospitals; Palo Alto, California Chief Resident 1971-1972
BOARD CERTIFICATION AND ACCREDITATIONS:
1. Board Certified, American Board of Obstetrics and Gynecology, November 7, 1975
2. Accredited in Advanced Operative Laparoscopy, Accreditation Council of Gynecologic Endoscopy, December 12, 1995
3. Passed Voluntary Recertification Exam August 25, 1997
4. NCC Certificate of Added Qualification in Menopausal Medicine, Certified December 7, 2001
5. Certified Menopausal Practitioner, NAMS October 2002
6. Certified Clinical Bone Densiometrist, October 2002
7. Fellow of the International Association for the Study of Women's Sexual Health
PROFESSIONAL ORGANIZATIONS:
1. American College of Obstetrics and Gynecology Fellow 1976-Present
2. California Medical Association Member 1985-Present
3. Society of Reproductive Surgeons Elected Member 1988-Present
4. American Assoc. of Gynecologic Laparoscopists Member 1976-Present
5. American Institute of Ultrasound in Medicine Member 1989-2005
6. North American Menopause Society Member 2000-Present (Member, Consumer Education Committee)
7. Sierra-Sacramento Valley Medical Society Member 2000-Present (Member, Medical Review Committee; Delegate
to CMA from 11th District)
8. Northern California OB/GYN Society Member 2002-Presnt
9. Traditional Practice Association Member 2002-Present
10. American Fertility Society Member Member 1974-2000
11. INT'L Society for the Study of Women Sexual Health, Member 2004-present
12. Associate Member, American Academy of Cosmetic Surgery 2009 - present
13. Member, International Society of Cosmetogynecology, 2009- present
14: Member, American Academy of Cosmetic Gynecologists, 2010- present
PROFESSIONAL ACTIVITIES:
1. Reviewer, Journal of Sexual Medicine
2. Reviewer, International Society for the Study of Women's Sexual Health
3. Reviewer, Menopause Management
4. Peer reviewer, State of California Bureau of Medical Quality Assurance
5. Reviewer Emeritus, Journal of Minimally Invasive Surgery
6. Reviewer, World Journal of Urology
7. Reviewer, British Journal of Obstetrics and Gynecology
8. Reviewer, World Journal of Obstetrics and Gynecology
Our office can assist you in arranging a low interest payment plan through CareCredit. We also accept cash, cashiers checks and credit cards (Visa, MasterCard, American Express, and Discover).







ALL FEES ARE APPROXIMATE AS DR. GOODMAN DOES NOT KNOW EXACTLY WHAT WILL NEED TO BE DONE UNTIL HE SEES THE PATIENT. ALSO, ANESTHESIA AND FACILITY FEES ARE BASED ON AMOUNT OF TIME SPENT IN OPERATING ROOM, SURGERY MAY RUN LONGER OR SHORTER THAN EXPECTED.
**Cash Discount: 3%, Check discount: 2%**
Initial surgical consultation: $200 (applied to surgery balance if elected up to 1 year from date of consultation)

Your initial consultation may be done in-person or via online "virtual consult" with an email review of your high-quality digital photographs.

A brief (5-10 minute) telephone consult may be arranged, free of charge, to discuss your goals and needs. However, a more in-depth personalized consult with a careful review of your personal anatomy is necessary prior to specific advice and scheduling surgery.

Each person is unique and, therefore, no two procedures are the same. An in-depth consultation with a careful review of your personal anatomy is required in order to choose the right procedure to fit your goals and to provide you with an exact price quote for your customized procedure. You will receive a detailed written quote for surgery at your initial consultation.

Surgical booking deposit: $750 (applied to surgery balance)

If you choose to cancel your surgery (for any reason) the deposit may be non-refundable. However if surgery is then re-scheduled within 6 months from the cancellation date $500 of the deposit will be re-applied. If surgery is cancelled a second time, the deposit cannot be re-applied.

If you need to re-schedule your surgery you may do so once free of charge with at least 4 weeks notice. However all subsequent re-schedules or reschedules with less than 4 weeks notice may be subject to a $500 fee. Reschedules with less than 48 hours notice will be subject to a $750 deposit fee.

All fees must be paid in full at the time of your pre-op appointment, which is scheduled anywhere from 7 days prior to the procedure up to the day of your surgery.

If your surgery is being performed at one of the two surgical centers we use, the center may bill your insurance carrier the appropriate hospital and anesthesia fees.

Labiaplasty

Unilateral: $3,000-4000, depending on complexity

Bilateral (simple): $4500 to $6500, depending on complexity, whether revision of hood and/or posterior commissure is involved, etc.

Clitoral Hood Reduction only: $2500-3500.

Hymenoplasty: $4,500-$5000

Perineoplasty only: $5,500 – $6000 (includes Luna Balls™ vaginal musculature training device if needed)

Vaginal Rejuvenation (combined pelvic floor repair, Vaginoplasty + Perineoplasty): $7,000-$8000

Femilift

3 treatments, plus a 1-year "touchup": $2800.00

Discounted price if added to a Perineoplasty/Vaginoplasty: $1500.00

O-Shot

Preparation and treatment one injection $1400.00. Second (repeat) injections if desired discounted by 50%.

Discounted price if added to Vaginoplasty and/or FemiLift (O-Shot will be
performed a minimum of 3 months from surgery, to allow for full healing and resumption of sexual activities) $1100.00; second O-Shot if requested $600.
About Our Facility
Dr. Goodman performs 95% of his procedures (labiaplasty/hood; perineoplasty/vaginoplasty; Laser work) at his in-office surgical suite in Davis, CA. Procedures are performed under local anesthesia with mild anti-anxiety medication sedation. There is no unpleasant "wake-up" from general anesthesia, not the extra hours and thousands of dollars additional associated with an in-hospital or surgicenter procedure. Dr Goodman is able to do this via the use of state-of-the-art surgical instruments and retractor systems.
| | |
| --- | --- |
| | |
| Waiting Room | Waiting Room |
For out-of-town clients, our staff can guide you with both your travel and lodging arrangements. Easy-access Sacramento International Airport is close by, and the office maintains special business rates with a wonderful small downtown hotel, 10 blocks away in our friendly and pleasant college community
It has been about two months since I had my labiaplasty surgery. Going to Dr. Goodman for this procedure was one of the best decisions I have ever made in my life. I feel a freedom that wasn't accessible to me before the surgery. I can go in the locker room and change and shower without trying to hide myself from other people. While it is true that all women are normal and every size labia is a normal size labia, the only women I have seen walking around naked and changing like it is no problem are the women whose labia aren't so exposed and in your face. I am not a person who usually opts for quick fixes as far as physical appearance goes. About five years ago I became really conscious of how lacking I was in muscle definition. I mean my legs were really flabby. Instead of getting lipo suction or some sort of surgical procedure, I began working out. My journey of strengthening my body has been amazing and I now, five years later, get to experience the world through a strong and flexible body that I created for myself through dedication and continual effort. But my labia were another story. No amount of exercise or conscious effort would have made my labia less out there and exposed. Even if I wasn't self-conscious about my labia, I would have been a spectacle for other women's scrutiny and comparison every time I took off my panties (if you are a women then you know how much we women compare and judge ourselves to other women). I felt that I had done my time with my large and exposed labia and was ready to have a new experience of my female parts. I am happy to say that in the past I made a few of my girlfriends feel better about their female parts by showing them mine. And while It felt good to help them raise their self-esteem, I also wanted to feel that same feeling and sense of relief. So after years of wishing I could be free of these large and exposed female parts, I took control of my life experience and used the resources available in the world to alter my life experience for what I believe to be the better. While I could have fully accepted the way I was down under and I could have had an enjoyable life of covering myself up and not taking my towel off in the steam room, that is really not what I wanted. After extensive online research, I chose Dr. Goodman and I knew he was the only one that I wanted to perform this intimate surgery. Because of this surgery and because of Dr. Goodman's skill and artistry, a part of me has been freed. What may have taken my entire life to come to grips with has been freed up in the few hours of surgery. I knew where I was at with myself and I used the tools available to me to free myself from the psychological burden of having larger and more exposed labia than all the other labia that I have seen. And I have gone to many nude beaches and hot springs and have seen many naked women. In my experience the women who feel confident and comfortable with their lady parts are the women whose labia aren't exposed and hanging out there for everyone to see. And now that I have joined this group of women, I too feel confident and comfortable with my lady parts. For the rest of my life I will have this freedom, this physical and psychological freedom. I couldn't be happier with my decision and am grateful that I found and used a tool (the surgery) to get me to this freedom.
---
nicole says:
June 16, 2011 at 6:59 pm

Hello,I have just had my labia minora surgery last week (June 13, 2011). I am writing this blog, not in hopes to show how much I appreciate Dr. Goodman work (though I definitely do), but in hopes to reach out to women debating on this procedure.I am 21 years old, and am currently attending SFSU, where walking about is a daily routine. Having a larger labia minora became very irritating and painful. I believe an important concept to understand about your vagina is that in no exception should it hurt while doing any normal activity, such as walking. I had been struggling with the decision wither to do this type of surgery or not for many years. To justify my age, I would like to point out that I had started complaining about my vagina when I was 12; therefore my reasoning for the surgery was in no way decided by a boy or sex. I am a very active girl participating in many sports and waitressing for 5 years. By the end of my days I would be in so much pain from my vagina, that wearing jeans were unbearable.
Of course sex has always been a painful experience, due to my enlarged lips rubbing on condoms as though they were clinging onto the penis for dear life. And I would agree that large lips are rather un- appealing, and have the tendency of making many girls insecure. But lets be honest, do men really care about the appearance of a vagina? Most definitely not, as cynical as this may sound, but men donut care what it looks like as long as they're getting the opportunity to be in it! The fact is, guys will hate your vagina if it is discouraging their chances of sex. Therefore on that note, if your vagina is causing pain or the desire to not be intimate, what are you waiting forget it fixed.
Getting back to the true reasoning for writing this, is for the women with a little doubt about the surgery. It has been day six, since my operation and I couldn't be more grateful. Though Dr. Goodman lectured me a hundred times on taking it slow, I was in fact walking around that day. I used vicodin the second day, and that was the last day I used it. I could not believe how good I felt. My parents were constantly yelling at me to lay down because I forgot I even had surgery. I honestly believe that the reason it did not hurt so bad (beside the fact Dr.Goodman knows what heirs doing!) but because I had dealt with so much vagina pain throughout all these years, this was nothing!
Yesterday was my firstly back to school, where I am on Bart for an hour, then walk up five flights of stairs to my first class. By the time I reached that last step I paused and couldn't help but smile. I had just walked up over 50 steps without that familiar pain I had grown to bear. I couldn't help but wonder why did I wait so long to get this done!
An aside for women researching this surgery, it is all about the doctor! My friend had gotten this surgery done in Lodi for only $800.00; I couldn't believe the price, but when she called me the next day stating IHS is the worst pain in my entire life the price seemed to be justified. She regretted it because of the horrible pain ( this coming from a 32 year old women who wad a physical trainer and had 3 children and a boob job)! Don't let other blows discourage you, it really depends on the doctor!
Nikki
---
I had labiaplasty and vaginal rejuvenation in May of 2008. Before surgery, my vagina felt very loose and there was extra skin (labia) that rubbed and chaffed making me feel older than my 51 years. My husband and also Dr. Goodman assured me that I was normal and my husband said he had never noticed anything that annoyed or bothered him. I decided to go ahead with the surgery and have never been happier.
I have not spent a lot of my time looking "down there," but the visual difference is not even the best part. I feel much more snug. My husband is extremely happy too. He has mentioned many times that there is a positive difference in appearance and fit.
Dr. Goodman, I love you, my husband loves you, and my hoo-hoo loves you! Please feel free to use my name and give my information for a reference.
Melissa Begbie
---
"I had originally planned to have 3 consultations regarding vaginoplasty surgery to gain perspective on the procedure from 3 different physicians. My first consultation was with a plastic surgeon and frankly, I didn't feel this person was knowledgeable OR experienced on this type of surgery and I felt very apprehensive about even continuing to investigate having this done. My second appointment was with Dr. Goodman and my experience was a complete 180 from the previous consultation.
I had stumbled upon Dr. Goodman's website and was quite impressed with the extensive background and experience he had doing this type of surgery. His website was informative and educational as well. There was a certain comfort knowing that Dr. Goodman was an OB/GYN AND specialized in women's issues. It just all made sense. The consultation was extremely thorough. Dr. Goodman presents his expertise in a clear and caring manner and offers recommendations for YOUR body's needs. You don't feel you've been pushed to choose from a "menu" of procedures. My husband and I left the consultation feeling we could make an informed decision about the procedures I wanted. Needless to say, I didn't even choose to have the 3rd physician consultation because I felt confident with Dr. Goodman.
My surgery was performed in January of 2008. I chose to have vaginoplasty, labiaplasty and the Sur-X procedure for incontinence. I lead an extremely physical and active lifestyle and I couldn't be happier with my choices and the outcome. My results are far beyond the expectations I had.
Dr. Goodman's office staff is caring, competent and professional. From my very first e-mail communication inquiring about services to setting up appointments to asking a plethora of questions about my procedures to assistance with post-op inquiries and billing---the staff is prompt, courteous and attentive. I always knew there was no such thing as a "stupid question" and someone was always there to help me when needed.
Anyone considering using Dr. Goodman for women's healthcare issues will be more than pleased with their decision. I know that I will look to Dr. Goodman for any health issues I might have in the future. I thank Dr. Goodman and his staff for everything!"
Deidre M. (view her before and after photos below)
| | |
| --- | --- |
| | |
| Pre-op combined Labiaplasty, Perineoplasty and Vaginoplasty | 1 month post-op |
Dr. Goodman's office in Davis, California is easily accessed (5 minutes from I-80), small, unassuming and friendly and efficient. It is 25 minutes from easy-access Sacramento International Airport. Sample travel distances are
Sacramento, 30 minutes,
Tahoe/Reno, 2 hours
Stockton, 1 hour
Modesto, 11⁄2 hours
Fairfield, 30 minutes
Oakland, 1 hour
San Jose, 21⁄2 hours
Santa Rosa, 11⁄2 hours
"Female Genital Plastic/Cosmetic Surgery: A review" At the invitation of the editor of the Journal of Sexual Medicine, among the worlds most prestigious sexual medicine and urological journals, Dr. Goodman's review of the entire subject of vulvovaginal aesthetic surgery was published in 2011. A blockbuster paper with 77 references it, along with Dr. Goodman et al's 2010 landmark outcome study, are among the most frequently referenced papers in the field of cosmetic gynecology.
"The Sexual, Psychological, and Body Image Health of Women Undergoing Elective Vulvovaginal Plastic/Cosmetic Procedures: A Pilot Study." This small study, presently being followed up with much larger numbers, is the first ever prospective study on genital plastic/cosmetic surgery. It concludes that women requesting these procedures are sexually and psychologically healthy, but suffer from body image issues related to their genitalia. Post-operatively, although sexual functioning scores were marginally better in some areas, the surprise was that virtually all of the body image issues ("body dysmorphia" had disappeared by 6 months post-op).
"Female Genital Plastic and Cosmetic Surgery: A Review"
Journal of Sexual Medicine, June, 2011
This systematic review, authored by Dr. Goodman, is the first complete review of the topic of women's genital plastic and cosmetic surgery to appear in print in a first-line peer-reviewed medical journal. It is Dr. Goodman's fourth peer-reviewed publication on the subject, making Dr. Goodman one of the most-referenced authors on the subject in the world. Another article, co-authored by Dr. Goodman, this time on the subject of body image and sexual issues involved in genital Plastics, has appeared in the October, 2011 edition of the Journal of Cosmetic Surgery.
Announcing The Largest Labiaplasty Patient Satisfaction Clinical Study To Date
In the past, there has been no medically recognized, published clinical large multi-centered study examining patient outcome and satisfaction with both Labiaplasty and other Female Cosmetic Genital Surgery (FCGS) procedures, causing critics to call for "better data." (1).
Is Elective Vulvar Plastic Surgery Ever Warranted, and What Screening Should Be Conducted Preoperatively?
by Michael P. Goodman, M.D.
Elective vulvar plastic surgery was the topic of a heated discussion on the list-serve of the International Society for the Study of Women's Sexual Medicine. At the suggestion of a board member, it was determined that this discussion might of interest to journal readers in the form of a published controversy.
Female Cosmetic Genital Surgery - Commentary
by Michael P. Goodman, M.D.
Genital plastic surgery for women has come under scrutiny and has been the topic of discussion in the new media, online, and in medical editorials. In the absence of measurable standards of care, lack of evidence -based outcome norms, and little standardization either in nomenclature or training requirements, concern has been raised by both ethicists and specialty organizations.
"Just Say Yes"
By Michael Goodman, M.D.
Few things in life are fun and free. Sex is one. As Henry Miller said, "Sex is one of the nine reasons for reincarnation...the other eight are unimportant". Just as lack of sex begets even less sex, reinstitution of sexual relations begets more sex. Like with potato chips: "...bet you can't eat just one..." (no pun intended).
"Is Sex Just Fun? Sexual Activity and Health"
By Michael Goodman, M.D.
Sexual and general health are entwined in both men and women. It is well known in the medical literature that sexual activity can affect testosterone ("T") levels in both men and women. Also known is the fact that lowered T levels reduce sexuality. For this reason, it can be hypothesized that sexual activity is able to biffed itself through activation of the feedback loop that exists between the pituitary gland in the brain, and T-sensitive receptors which regulate sexual activity, energy production and mood, among others. More sex means more physiologically produced T, and more T correlates with both psychological and general health. Ample evidence exists in medical literature to suggest that full, satisfactory sexual intercourse is not only associated with better hormonal function, but with improvement of corresponding physical and psychological parameters.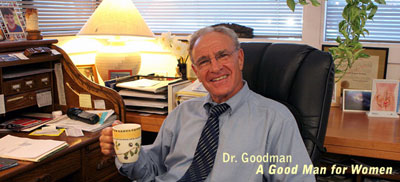 "Up Close and Personal": Davis Life Magazine interviews Dr. Goodman
As an independent physician, Dr. Michael Goodman departs from today's mainstream practices in order to be the kind of physician most patients dream of. And if you happen to be female, you are doubly in luck (no offense, fellas; he hasn't fully left you out, as you will see). Yes, his practice takes in the normal spectrum of a gynecological practice, but he has taken it further - much further. If you have concerns with menopause, bone density, or vulvo-vaginal aesthetic and reconstructive surgery, he's your doc. And we cannot forget sexual medicine.
For more information, contact: info@clitoralunhooding.com